Two-Phase Orthodontic Treatment
Jacksonville Beach & Ponte Vedra
---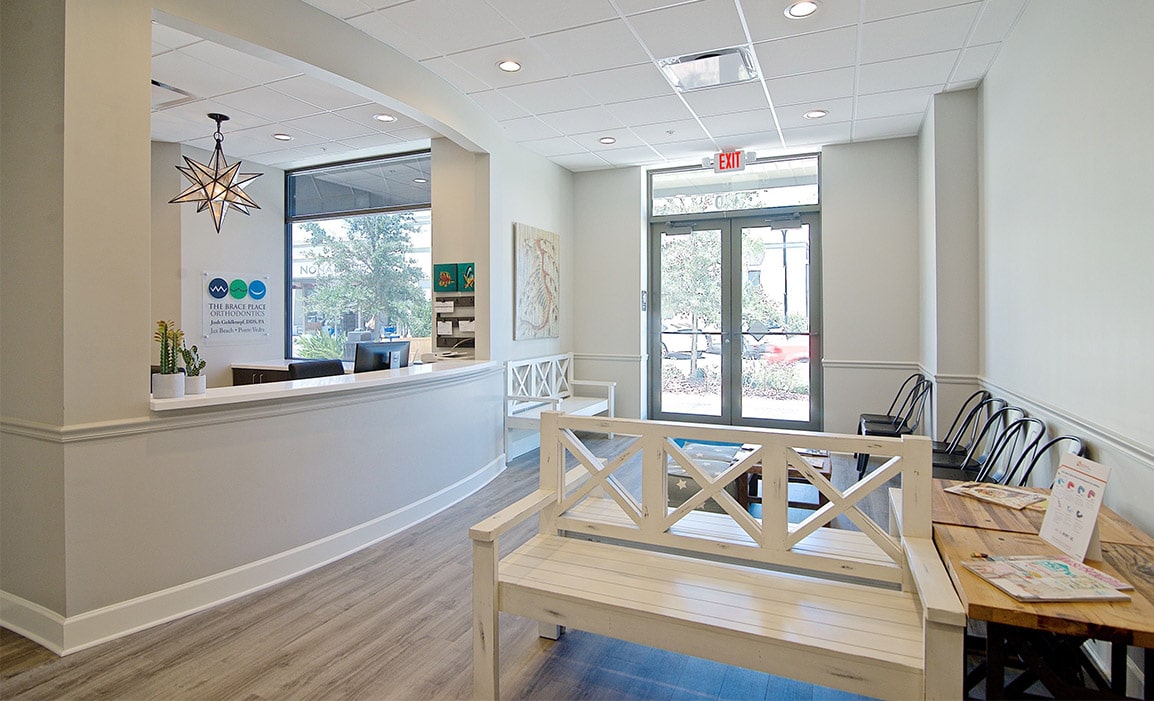 ---
The American Association of Orthodontists recommends that every child see an orthodontist by age 7.
---
The Brace Place provides two-phase orthodontic treatment in Jacksonville Beach & Ponte Vedra, FL. Contact us to learn more or schedule an appointment.
What Is Two-Phase Treatment?
---
Braces conjure memories of teenage years for most, and you've likely come across conflicting advice regarding orthodontics at a younger age. But the truth is many benefit from early orthodontic intervention, and though not all children will require it, an early examination is important for all. Two-phase orthodontic treatment, just as the name suggests, allows for this early treatment by performing it in two phases, one before the permanent teeth completely come in, and the second after they have. If you would like to learn more reach out to Dr. Josh Goldknopf of The Brace Place in Ponte Vedra, and Jacksonville Beach, FL.
---
Why Early?
---
While straight teeth are more attractive, the reason for the two-phase treatment is not merely an aesthetic one. Bite conditions, for example, can be best addressed at an early age while the jaws are still developing. It's also the case for other orthodontic problems, the earlier they are treated the less involved the procedure required to correct them.
In some cases, an orthodontic concern may require an earlier orthodontic consultation. Around age 7, the first adult molars typically erupt, helping to define a patient's back bite and allowing the orthodontist to more effectively evaluate the bite. Treatment at this age may not be necessary, but orthodontic monitoring can help anticipate the ideal timeline for the most effective treatment and also help to prevent more serious problems in the future.
Some results of effective early treatment:
Reducing the need for tooth removal
Creating space for crowded, erupting teeth
Reducing the risk of injury to protruding front teeth
Preserving needed space for permanent teeth
Reducing future orthodontic treatment time
---
First Phase
---
During the first phase of the treatment, while your child still has some baby teeth, the goal is to prepare the mouth for the incoming permanent teeth, to adjust the jaw as it grows, and to help halt bad oral habits, among others. Braces are not typically part of this phase but there is instead a focus on other types of appliances.
---
Second Phase
---
After a pause to allow most adult teeth to erupt, the second phase will usually begin. This completes the treatment begun in the first by wearing braces and can take from 12 to 24 months, depending on the condition being treated.
It's important to remember that not all children will require early treatment, but an early examination can save you and your child from future far more intricate work in order to correct their smile. To find out whether your child can benefit from two-phase orthodontic treatment, begin by scheduling an appointment today with Dr. Goldknopf of The Brace Place in Ponte Vedra, and Jacksonville Beach, FL, by dialing 904-249-0037.