Dr. Josh Goldknopf: Orthodontist
in Jax Beach and Ponte Vedra, FL
---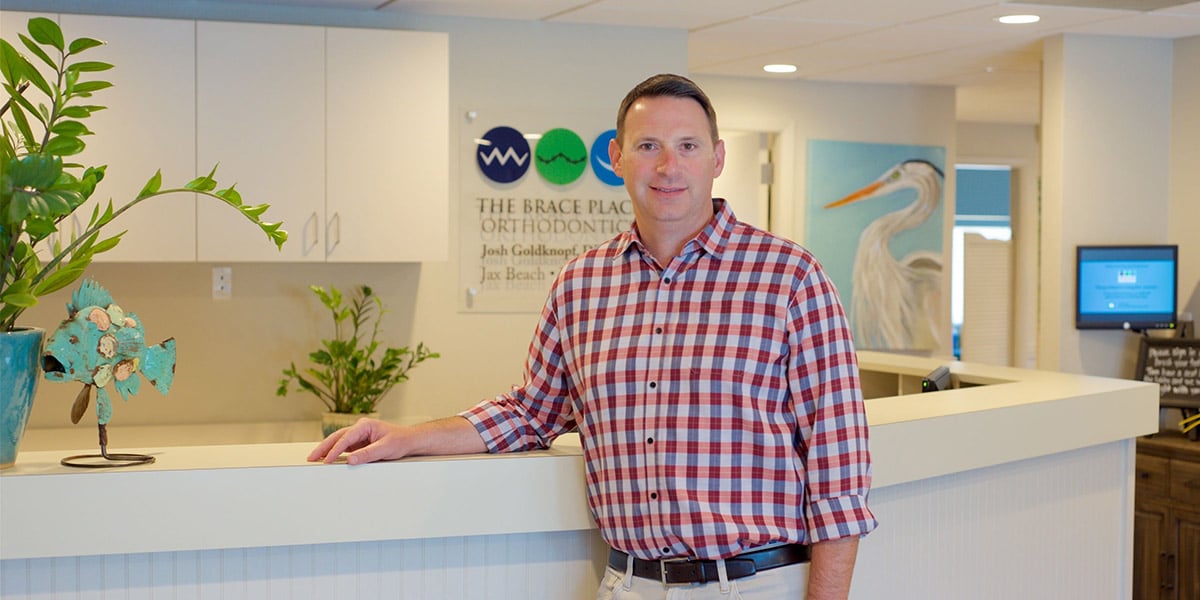 ---
"I genuinely appreciate the trust my patients and their families place in me for their or their children's orthodontic care. As a father, husband and former orthodontic patient myself I understand the impact orthodontic treatment can have on the lives of our patients and their families. I consider it a blessing that my profession has provided me the skill set necessary to transform the smiles of my patients and the opportunity to develop lasting relationships with their families."
- Dr. Goldknopf
As a Board Certified orthodontist, Dr. Goldknopf is honest, down to earth, calm and detail oriented. His demeanor sets the tone for the entire practice. We respect our patients and their families. Dr. Goldknopf prides himself in taking the time to answer any and all questions that his patients or their families may have regarding treatment.
He is dedicated to his patients and the betterment of this speciality. That is why he achieved Board Certification from the American Board of Orthodontics. Although not required to practice orthodontics, Board Certification is a rigorous process that Dr. Goldknopf chose to complete in order to demonstrate his ability as an orthodontist and devotion to the care of his patients.
Dr. Goldknopf received his undergraduate degree in biology from the University of Miami. Following college he pursued advanced science training at Drexel University (formerly MCP Hahnemann University) where he received a master's degree in Medical Science. After his time in graduate school he realized that he wanted to pursue a career in dentistry and received his dental training at the University of Maryland Dental School. Following dental school Dr. Goldknopf completed a two-year residency training program in the specialty of orthodontics at the Nova Southeastern University College of Dental Medicine in Ft. Lauderdale, Florida.
Committed to continuing education, Dr. Goldknopf attends a multitude of courses on a yearly basis to stay current with the ever advancing technology and techniques in the orthodontic profession. Dr. Goldknopf also maintains membership with the American Association of Orthodontists, the Southern Association of Orthodontists, the Florida Association of Orthodontists as well as the American Dental Association and the affiliated dental associations in Florida.
Dr. Goldknopf is actively involved in the Jacksonville Beach and Ponte Vedra communities at both educating children on oral health and making charitable contributions to many organizations. Dr. Goldknopf enthusiastically supports local schools, churches, athletic teams, health societies, The Girl Scouts and The Boy Scouts. Dr. G welcomes his patients to discuss their affiliations and special events and whenever possible he will contribute his time or make a donation.
Call us at 904-249-0037 to make an appointment with our Jacksonville Beach orthodontist today!
---

---